Anpoli Areepara Mahothsavam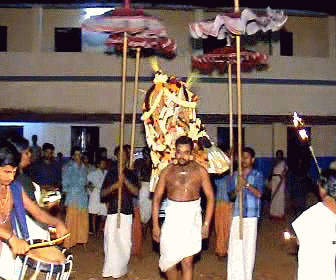 Anpoli Areeppara is the most important event of our temple. It is the annual temple festival of 18 days from Medam 10th to 27th. On these days our mother visited her people at their doorsteps to receive their offerings as Paras and to bless them in person. Early in the morning Her Highness is brought out from the sanctum sanctorum with royal gaiety and drums in the Holy Jeevatha embedded with the Moolabimbam and is royally placed on the peetha. To receive two Anpoli Paras everyday. A customary rhythmic dance of the priest shouldering the Jeevatha is followed along with the special Poojas in the Seva Panthal. Then the Holy procession sets off.
Every household , cleaned and decorated await eagerly for the farbound sounds of Her procession reaching their door. Amma is welcomed with fireworks and vaikuravas and offerings of flowers, paddy,fruits ,aval, malar in the form of para are offered. The accompanying crowd is treated everywhere with fruits, feast and pleasantries. The process goes on uninterrupted until late night and at about 12'o clock the procession returns to the temple and then the daily ritualistic 'poojas' and 'nivedyams' are offered in the presence of a huge crowd. After this, Amma is once again ritually brought out accompanied by royal drum beats and 'vaikuravas' to perform the Anpoli at the zero hours and in most cases in the early hours.
'Anpoli panthal' which is considered as a temporary temple is already erected to the north of 'Elanjithara' and an 'Anpoli Kalam' decorated with divine ritual drawings and fragrant flowers is kept in purity and lighted with Nilavilakku is there in front of the Anpoli Panthal. The rhythmic ritual dance of the shouldering priest in tune to the royal drum beats, come out of the Mathilkettu after 3 rounds around the temple, slowly approaches the Anpoli kalam in ritual steps. Large crowds follow and vaikuravas and fire crackers resounds through out the night. Amma mount in the Jeevatha on the shoulders of the priest ritually dancing on their steps, slowly awakened in this high concentration of dance, music, vaikuravas and the fire crackers. All of a sudden enters the Anpoli Kalam in the dense forest of light and oil lamps, and performs her own divine dance revelation. The priest becomes unconscious, faints and falls. Great fire works follows. Offerings there are distributed as prasadams to crowds of devotees thronging there and dakshinas are given. Amma is brought back to the SreeKovil. The process is to begin early morning next day.
---
(Best viewed at 1024x768 Resolution)
All Rights Reserved. Kurattikadu Pattambalam Devaswam, Mannar